Nice video man! The techno snobs in the office will judge me but I love a good house groove and this is a nice one. Did you remove the preview from the post or did it not create a preview? Also would you mind if I add it to a playlist on youtube and post it in the reviews and demos topic?
Thanks! Yeah please add it to the playlist, I'm glad you like it. I didn't have a preview, I didn't realize it wasn't automatic. I also have techno on my channel btw, with camera angles where the Mod duo x is more visible, maybe also interesting
Very nice! The preview usually generates automatically but it didn't. I was worried that it was a permission issue on the forum but since this one worked it should be fine. I edited the other on to make the preview appear. Really nice demos and music. We love it, keep it up!
Now that Dwarfs have been shipped to all of the Beta backers (some may be still in transit) and many more devices have been shipped, we would love to see you guys using them!
So if you want to make or have already made any videos, whether it's an unboxing, first impressions, reviews, demonstrations or performances, please let us know!
If you don't want it to be public that's fine, you can message or email them to us directly as feedback.
If you would like it to be public, then we would be happy feature it on the forum in the Product Reviews and Demos topic
We can also add it to the MOD Dwarf YouTube playlist to help you get some love on your channel while also spreading the love for the device
Feel free to post here
Hi there,
I am not a musician by any stretch of the means, but I do enjoy making soundscapes and experimental stuff.
I recorded a small experiment today with my make noise trio and my MOD Dwarf.
I'd recommend headphones if you can, and it smoothed out quite a bit after the first few rough moments of fighting my Strega haha
Thanks everyone!
Awesome man! you are really getting some crazy sounds out of the device. It's cool to see how people use our devices in non typical but very creative ways! I feel like you could make a really nice sound track for a horror film or something. Cool set up too by the way, I saw on your channel image you have the polyend tracker too! I added it to the Dwarf playlist on youtube. Thanks for sharing
Thanks, James!
Believe it or not, horror film scores are exactly what brought me into the synth stuff haha
Eventually my friends and I are going to make little horror films so I can create for them.
I'll update my video description in more detail for what the Dwarf is handling.
And yeah! The tracker is great, I'm impatiently waiting for the next firmware to drop that will fix some midi latency issues.
In the meantime, still gonna be working on horror stuff haha
I believe it haha
I bet there are a bunch of indie game developers making horror games who would love to have some of these kinds of looping soundscapes! I love these kinds of games (Phasmophobia, Devour, In Silence etc)
More details in the description would be cool. I'm also interested, are you recording with the 1010 bluebox? how do you like it?
Ah okay, when it's fixed it would be cool to see you using the Dwarf and Tracker together
You know, the video game stuff would actually be a pretty cool avenue for stuff like this.
Right now I just work on strange stuff and post from time to time. It's really a relaxation thing for me, as soon as I put pressure on myself to record I lose motivation.
I do record a lot with the bluebox! I like it quite a bit. I generally use AUM on my iPad because it cuts down on the whole SD card transfer, but it's nice to have stems and a master directly recorded.
I'll be tinkering around with my set up and pulling stuff out, and I'll do my best to snag direct recordings from the bluebox. I'm just waiting on some audio splitters to get delivered today
At the suggestion of @jon I post here again my little video in which I use the Dwarf as a sound generator with my small, noise machine. The interesting thing is that the Noise Machnie controls the Dwarf wirelessly via BLE Midi over a CME Widi Jack. Works great (if you managed to get the latest firmware onto the jack). I'm currently using the Dwarf as a tone generator to play with a noise machine on it. Now I just have to build a belt clip to the noise machine and at the same time I can add some synth sounds next to the guitar. Possibilities over possibilities open up.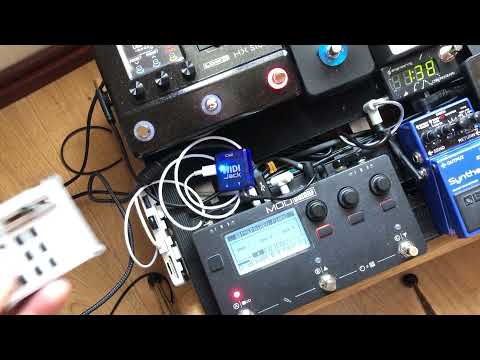 Hey Oli,
Nice set up! I added the video to the Dwarf playlist on youtube. Would be great to see a longer demo with the Noise machine. A belt clip would be cool! maybe you could stick the Noise machine onto your guitar with 3M dual lock or something? I used to do that with a Wiimote on the back of my headstock haha
Workin on that :-). Still searching my household for a spare belt clip to put it on the guitar strap. Puttin duallock on on my beloved strandberg is quite not the best way to mount it :-). Other problem is, that I'm spending too much time in playing around with all the possebilties of synths and arpegiators an so on the dwarf. So I haven't found the right time to make a longer video yet. But comes certainly.
What did you do with the Wii mote on the guitar? Hardly played Guitar Hero, right?
Oh on the guitar strap right. Makes a lot more sense than a belt haha. That's a cool idea
Well I'm sure after you have had some time to play around and experiment with different options you will come up with something cool.
I used the Wii mote just for the accelerometer. I connected it to my laptop with bluetooth and used it to control effects. Like lifting up the neck would increase the dry/wet of a delay for example. I guess it's a bit like "star power" on guitar hero haha
@Bentitusmusic I guess this video also deserves to be here

Hope that is fine for you.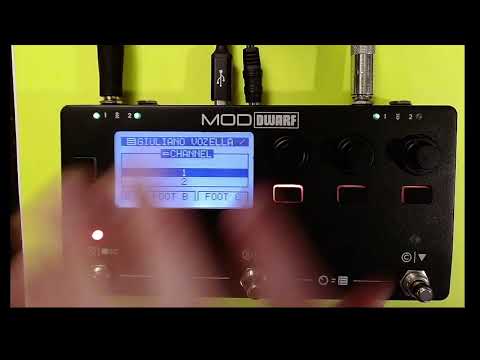 Totally fine by me. Hope it helps someone! Thanks Jon!
You might be a Jon Carpenter fan then
I have recently watched the documentary "In search of Darkness" and it made me so nostalgic of the 80's horror movies that I ended up in a home-movie-watching-marathon that took days.
Hey everyone!
We would love to get your help with something you might find exciting
It would be great to hear your opinions related to creating content about our devices and platform
Check out the Survey to have your say!